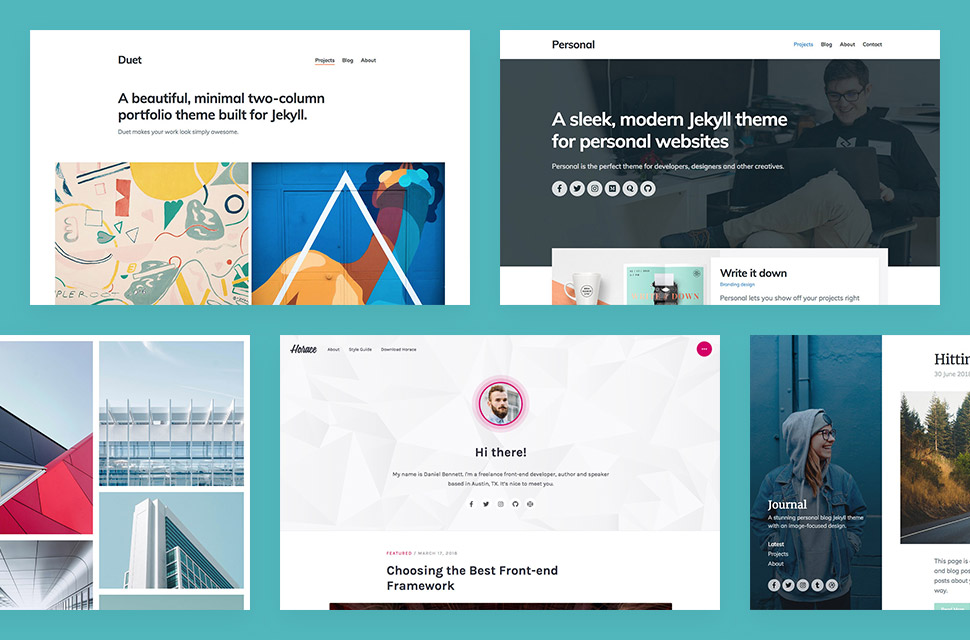 Top new Jekyll themes for 2019
06 February 2019
We've collected our favorite Jekyll themes to help you make a great personal or portfolio website in 2019. All these themes include a blog as well, so are perfect to run your whole website on.
Personal is our newest Jekyll theme, and is perfect for developers, designers and other creatives to make a personal website that shows off their projects, blog posts and details.
If you're a writer, Horace is the theme for you. It's a content-focused theme with beautiful minimal styling, and all the features you need to create a powerful blog or personal website.
Journal's beautiful sidebar image feature changes as you navigate through the site. It's A stunning Jekyll theme with an image-focused design and loads of powerful features. Perfect for your personal website, blog and portfolio.
Want to create a minimal, organized portfolio of your work? Then check out Index – a stylish, minimal portfolio Jekyll theme. With a fixed sidebar menu and clean grid layout, it's perfect for your portfolio.
Duet is our best-selling Jekyll theme, and it's no surprise! A beautiful, minimal two-column portfolio theme: Duet makes your work look simply awesome, and is packed with powerful features.